When I was a kid, I distinctly remember my mum having an old Be-Ro baking book in the kitchen drawer. The contents of the drawer were simply not always available. This was years before I began reading Terry Pratchett and had no idea about Anoia, Goddess of Things That Get Stuck in Drawers. I just accepted that the knowledge held within its honoured pages would not always be available to us mere mortals. Incidentally, I can report that Anoia relocated to our current kitchen drawers when we emigrated from the UK.
Years later, I grew up (sort of) and remembered that my mum used to make really good scones. Not the cotton-wool "biscuits" found over here in the colonies, but propper, stodgy – dare I say "claggy"? – scones fit for showcasing butter, jam and yes – even clotted cream if the occasion demands it. (Though best of luck trying to find Devon clotted cream this side of well… Devon.)
Being pretty confident that the sum of human knowledge is available somewhere on the Internet I set to, and discovered you can buy the current edition of the Be-Ro recipe book here for a mere £2.99. But it only seems to be available for UK addresses which is a little, er, "Brexit-minded" if I might say so! They do offer a few basic pastry recipes and some tips and tricks in a PDF, but not the elusive scone recipe. There was a Cornish pasty recipe though… so the PDF does have some merit!
So – off I set again, and discovered an online 1923 version at FlashBak.com of the rich scone recipe.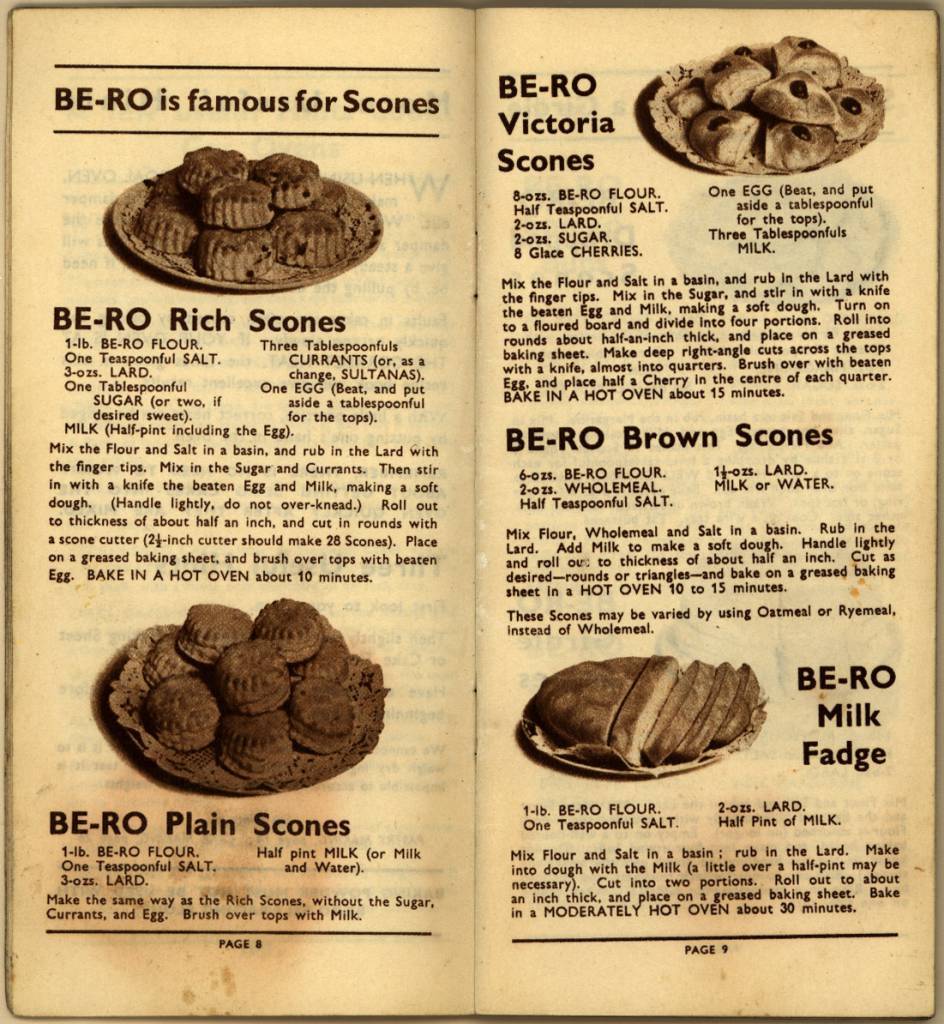 So while this may very well have been the recipe I grew up with, I'm not entirely sure I'm as comfortable with eating lard as maybe I once was. A little more digging and I found a more up-to-date version. It was even in colour, though whoever scanned it had annotated it with a comment about the egg being too "strong"?! Interesting that the recipe was now half the quantities and that the editors had felt the need to make several changes to the instruction emphasis, though it remains essentially the same.
The only slight issue was that in Canada there is no such thing as "self-raising flour". No problem: a teaspoon of baking powder to go along with the "general purpose" flour we get here, and we were off to the races…
Being a representative of the male of the species I felt it necessary to use every utensil in the kitchen as part of the process. We'd acquired them for just such a purpose, surely!
The only other tweak I made was to bake the experiment for only 8 minutes. Theory being I could always add more time in the incinerator oven if necessary, but not wind back the clock. It turned out that 8 minutes was just right for my own preference. The result was given approval from Mrs E and even son-o-mine. Result!
Can't say I was too disappointed on the whole. So… tonight I went all in, and doubled up the numbers and went for it…
Though I do say so myself… I think I'll be fine when the zombie apocalypse comes! 🙂